Testimonials
Dear families, I have just had the pleasure of reading a very interesting blog written by a local Mummy. If you have a spare 2 minutes you may well enjoy checking out: https://onemamaskingdom.com/2018/03/14/monkey-business/
Charlie the Chimp loves getting feedback! It made him smile to hear these lovely comments:
"Charlie's Chimps is just fantastic! My son and I look forward to our fridays with the lovely Megs who makes everyone feel so welcome and is superb with the children! And I have just as much fun as my little bubba does! Cannot recommend this enough! The BEST children's group we've ever been to BY FAR!" – Katie (Mummy)
"Charlie's Chimps is the best children's activity I've been to and I've sampled many over the years with three children. Megs' enthusiasm, warmth and kindness shine through; Maeve and I are very lucky to have this class to look forward to as the highlight of our week" – Marianne (Mummy)
"We are very happy we met you as you are a very friendly person and Julia really loved you. She was always happy!" – Marta (Mummy)
"You have been such a huge, huge part of Jenson's childhood memories and my memories of Jenson's childhood already……can't tell you how amazing your class is……so much thought and enthusiasm is in every second of every minute."  – Katie (Mummy)
"Went to a Charlie's Chimps party for a 4yr old. and my son (3 1/2yrs) LOVED it. Completely engaged. Joined in everything. Megs had all the children joining in and had their attention. This was our 1st Charlie's Chimps experience. Absolutely brilliant, highly recommend." – Hayley (Mummy)
"Kaitlyn and I love our Fridays as it means Chimps. Such fun and educational too."  – Tina (Grandparent)
"Lenny loves Charlie and Meg! He's learnt to move to music and the class is so much fun and lively! Would highly recommend!" – Zoe (Mummy)
"My weekly trip to Majestic Mountain has become a tonic….we love what you do."  – Jane (Mummy)
"Thank you so much for all the effort and enthusiasm you put into Charlie's Chimps (I've never seen anyone throw themselves into it as much as you!) – Katharine (Mummy)
"Thank you so much for having Ruby and Mum at Charlie's Chimps….they have loved it!" – Emily (Mummy)
"Charlie's Chimps is a fantastic class, Summer thoroughly enjoys her time with Megan and Charlie and can't wait for Friday mornings!  From the minute we get ready for Charlie's Chimps Summer is bouncing with excitement.  Megan does a fabulous job and we look forward to lots more fun sessions" – Chloe (Mummy)
"My daughter asks, most days, if today is the day we go to Charlie's Chimps! She really looks forward to it…and loves spotting Charlie on the flyers around town" – Amy (Mummy)
"Esme loves your classes so much….I'm so pleased she can come again" – Amy (Mummy)
"Charlie's Chimps is brilliant and so so friendly.  Milo loves Charlie's Chimps so much, he's in a good mood for the rest of the day" – Charlotte (Mummy)
"Your class is brilliant fun – full of beans, lots of energy, Amaris loved the class and the fun friendly atmosphere" – Adele (Mummy)
"My daughter Evie is 2 & absolutely loves our Charlie's Chimps sessions on Friday in Blandford! Highly recommend it" – Kate (Mummy)
"Phoebe and I both love your classes!" – George (Mummy)
 "Charlie's Chimps is tremendous – a high octane fusion of music, movement and drama; cleverly designed to nurture your child's confidence, expand their imaginative powers and improve their singing and playing abilities whilst they're just having fun! I highly recommend it." – Jags (Mummy)
"Thank you so much for everything whilst we've been at Charlie's Chimps.  Theo has loved it." – Lyndzey (Mummy)
3 year old Addison has been thoroughly enjoying classes – at the end of the class on Friday – he shouted "I love you Megan!"
"Ruby jumped up & down and said "yay I love Charlie's Chimps!!" when I reminded her where she was going with Grandma today!!
🐒
She's really loving it
😀
" – Emily Scammell (Mummy)
"We had a lovely time, such a great refreshing change" – Lynne Coker (Mummy and Grandparent)
"Thank you for coming – the Knighton House School children really enjoyed themselves and (especially when home) were talking about what they had done during your fantastic session" – Amanda Binns (teacher at Knighton House School)
"A unique experience for adults and children. The children responded with delight and Charlie was a big hit! Thank you Megan for your energy and vibrance. Come back soon"

 – 

Sophie Zephirin (

Army Welfare Service – 

Blandford Camp)
"Fantastic….the material is great – well branded and presented. The flow was good and you were enthusiastic which rubbed off on the parents and children" – Barbara Jaggs (Mummy and Grandparent)
"5 stars" – Myha Gurung (Mummy)
"I loved that you had original songs – I've found myself humming the Hello Charlie's Chimps tune through the week!  My son loved the catchy songs and playing the little drum!  Great success!"  – Sarah Stroud (Mummy)
Local Research
When planning to set up Charlie's Chimps Megan conducted extensive research locally and this revealed that only 21% of children overall (and 8% of boys) regularly go to Drama, Dance or Music classes.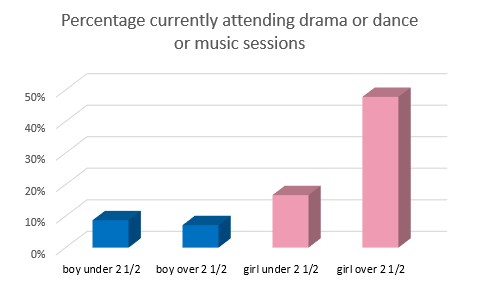 99% of interviewees agreed with the assertion that active engagement with a regular fusion class (incorporating all 3 disciplines in 1 class) would be beneficial to their child's communication, co-ordination, self-esteem and imagination – from which it was possible to ascertain a huge need for Charlie's Chimps in Dorset.
I believe arts education in music, theatre, dance, and the visual arts is one of the most creative ways we have to find the gold that is buried just beneath the surface. Children have an enthusiasm for life, a spark of creativity.
– Richard W. Riley, Former US Secretary of Education
What potential benefits of involvement with Charlie's Chimps did the interviewees perceive?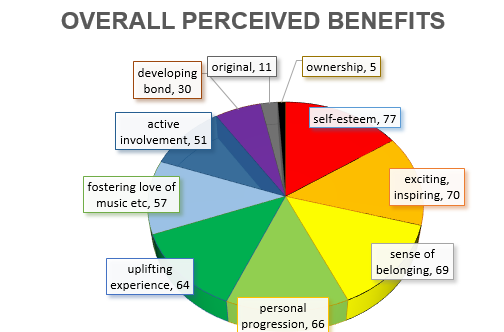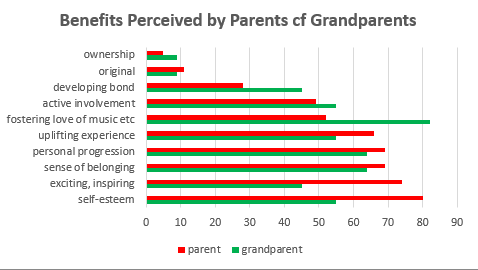 Founder of Charlie's Chimps, Megan Morris, shares how others helped to launch Charlie's Chimps:
"I was bowled over by the generous support in kind that was offered and this cemented my already rock solid view that Charlie's Chimps is greatly needed. The majority of the instruments were from Sound Children (who make accessible music-making resources for babies and young children and whose music kits have won numerous awards). Their instruments are made following Fair Trade principles in Bali, Indonesia, and fit the jungle theme of Charlie's Chimps to perfection. Andy Gwatkin at Sound Children was so taken by the concept of Charlie's Chimps he offered a generous discount on the order of sets of instruments. Upon hearing about the vision for Charlie's Chimps, Steve Power, director of Print Image, very kindly designed a fantastic logo and printed funky Charlie's Chimps bags. IKEA generously provided a huge number of resources for Charlie's Chimps, and resources were also kindly donated by PC World, Hobbycraft and Dylon. I was also delighted to receive a grant from the Split Infinitive Trust. Thank you to everybody who has helped enable Charlie's Chimps!"